Players: 3 440 000+
Genre: Casino
Languages: English, Russian
Platform: Browser/HTML
Description:
Hottest bitches are waiting for you! In this game of luck you'll find a very naughty girls who just want to undress and pleasure you in a numerous ways. Show the other players who is the big boss and the greatest high roller taking top places in a different challenges and competitions. Big prizes, exclusive babes, fair slot machines and great bonuses – that's the salacious world where everything could happen. So, take a step and dive into the atmosphere of luxury, filth and gorgeous women.
Intro
In Slot Bitches, the naughtiest babes are looking for big rollers. It's one of the most famous casino games turned sexy as slots are played in an effort to undress and bed sexy girls. Featuring realistically drawn chicks, Slot Bitches is sure to become a fast fan favorite. High stakes gambling has never been hotter, and the slot machine won't be the only thing getting tugged.
Story
Slot Bitches throws a new and interesting spin on an old game. It's the slots everyone knows, with some cuties mixed in. And once enough winnings are collected from the base slot machine, a slot battle erupts between hunk and babe. Each spin of the slot machine lowers a meter on the girl's side, but she gets to spin as well. If the player's meter empties before the honey's, well, it's premature city, and the hunk is sent packing. If the hunk manages to lower the hottie's meter, he's rewarded with a bit less clothing. Another successful attack, and the girl is sure to strip down to her undies.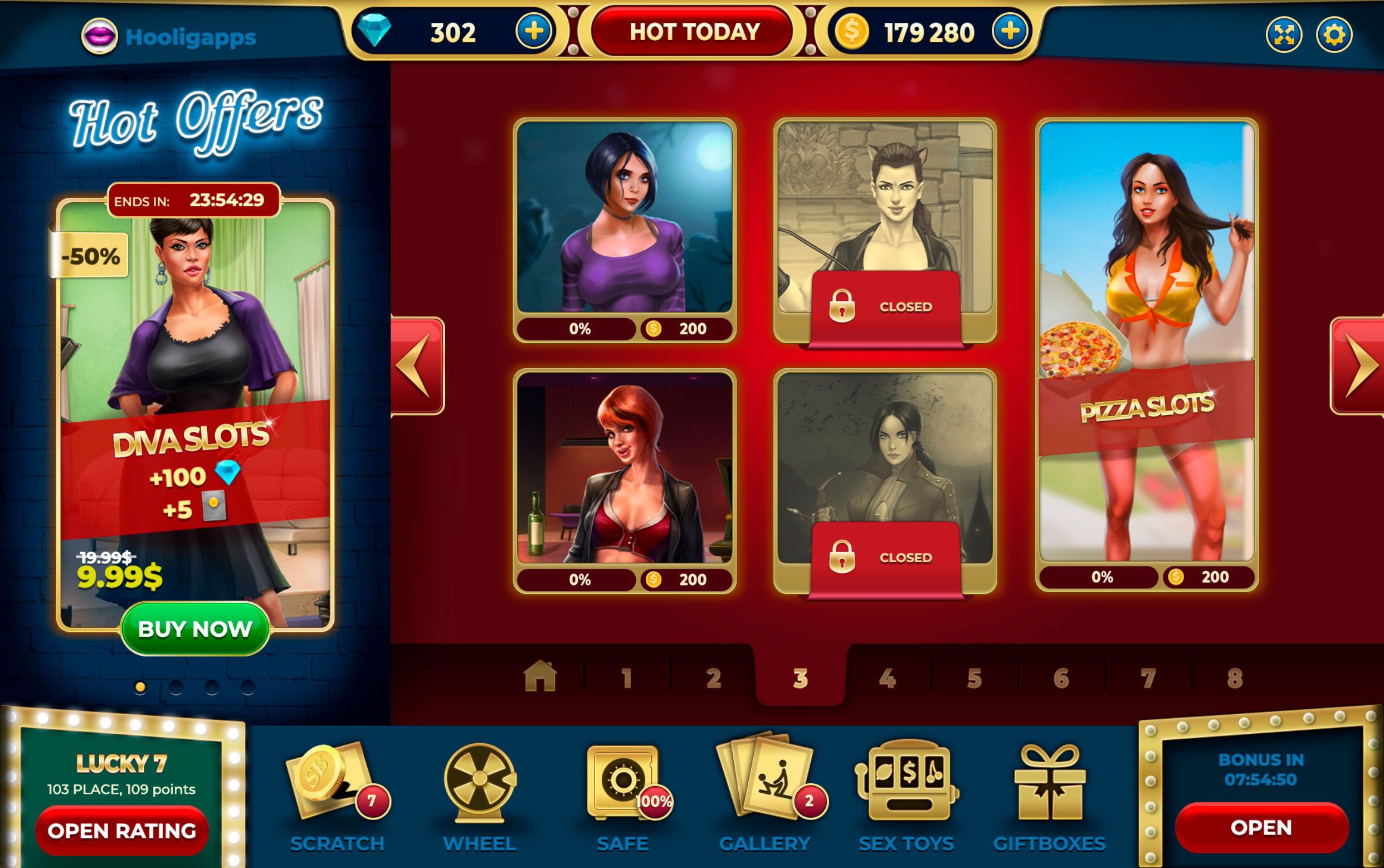 After that, there goes the bra, and another win means it's all off. Fully naked, the next win gets the player a fantastic picture of the sexy babe toying herself, and the last win against the slot chick features a fully color snapshot of sex. To add depth to the gameplay, sex toys make an appearance. With many different types of toys available to be upgraded and added to your arsenal, anyone with a toy fetish is sure to be happy! The toys present a new layer of strategy in the gameplay, as the player has the choice of which toys to take into the various slot battles. Each toy adds health to the player's bar, and does a certain amount of damage when spun in the slot machine. Of course, lining up two or three of the same toy will add to their effectiveness.
Gameplay
Las Vegas is a playground, and it's full of horny cuties waiting for a strong man to sweep them off their feet, and lay them down in bed. Or bend them over the back of a chair or push them against the wall. Babes want to get laid, and they'll take all the man they can get. Slot Bitches is a game which focuses on a chick's desire for sex, and the ways she must be wooed before she gives it up.
Teachers, waitresses, and even a Vegas detective are looking for a high roller to stick it to them, and all can be wooed and turned on through prowess at the slot machine. As games go on, a chance to hook up presents itself. It's a battle to see who can make who let loose first. If the hunk wins, the woman strips, plays with toys, or eventually goes all the way. If the babe wins, the guy is sent packing for coming too quickly. Set the stakes as low or as high as needed to fill each lady's meter to get her to spread her legs more quickly. Each win against a female needed to be dominated forces her to lose some clothing. When she's naked, the next win rewards the hunk with the golden touch with a shot of sex toys being used. After that, it's all sex. All the while, the game throws a pants-tightening cascade of sounds forward. Girls giggle, squeal, and moan as the game progresses. Get a babe naked, watch her pleasure herself, and then screw her. Sounds like a great night at the casino!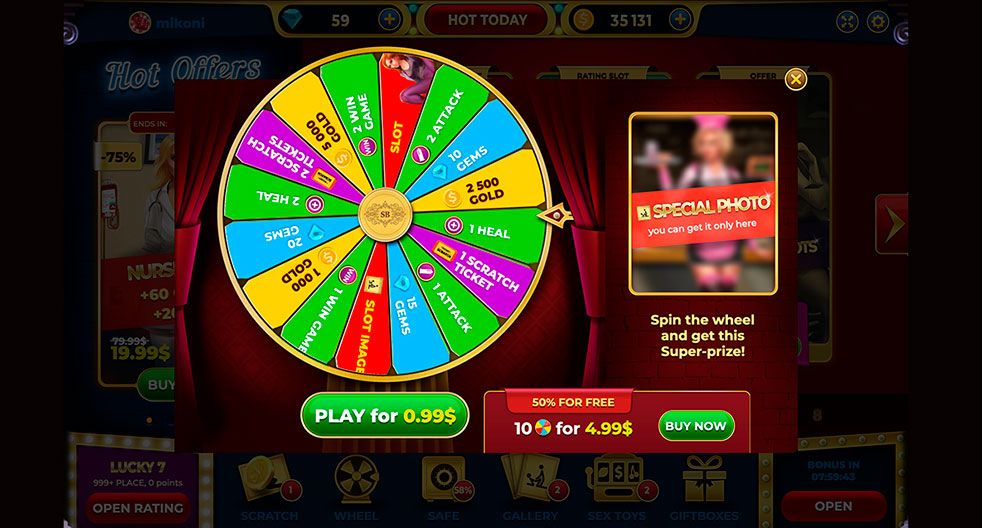 Sexy Drawn Babes
Full Frontal and Hardcore Nudity
Easy-to-Learn Slot Gameplay
Intriguing Slot Machine Battles
Realistic Moans and Squeals