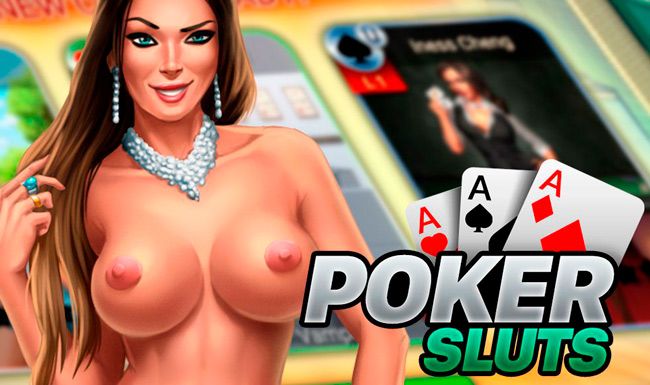 Players: 9 200 000+
Genre: Poker/CCG
Languages: English, German, French, Japanese
Platform: Browser/HTML
Description:
Peek into the perverse world of underground poker with vile secrets and filthiest of sluts. A true gem for those who appreciate a good poker game with immersive dialog and juicy illustrations. Show who is the boss at the poker table and impress hot babes, who are ready to do anything to get your attention. Win tournaments and get ladies to drop their panties and lose the last remnants of modesty. Test your skill in exciting card games, arouse your imagination and look behind the curtain of the enticing world of adult poker games.
Intro
Get lost in a sexy world of poker when playing Poker Sluts. Sexy chicks looking to get screwed are drawn to the world of underground poker. With a story told by way of comic-book-style illustrations, Poker Sluts brings together two of every man's favorites: high stakes poker and horny babes. Caught with another man's girl, a sex-starved man named Jake must immerse himself in the seedy hidden game rooms and back alley card games in an effort to come out unscathed and to earn his place as underworld boss, bequeathed to him by a dying long-lost relation. Of course, if Jake can get laid in the process, he's okay with that, too!
Story
Poker Slut features revolutionary gameplay that blends traditionally poker with a deck-building, card-based combat game. Build a harem of powerful chicks looking to be dominated, and use the girl book to put together different hands for each battle. Each round, the player is dealt a hand of cards that they must select to activate their chosen harem when it comes time to battle. If the player can put together good hands with their dealt cards, from simple two of a kinds, to royal straights, the damage dealt is amplified. It's an ingenious system which is easy to learn, but hard to master, and adds a ton of depth and strategy into the game. Come for the dirty babes with hot bodies, and stay for the varied and exciting gameplay! As the player leads Jake across town, stopping at points to defeat enemies, new and exciting cuties are unlocked and can be added to Jake's harem. Battling takes energy points, which can be earned and bought in game.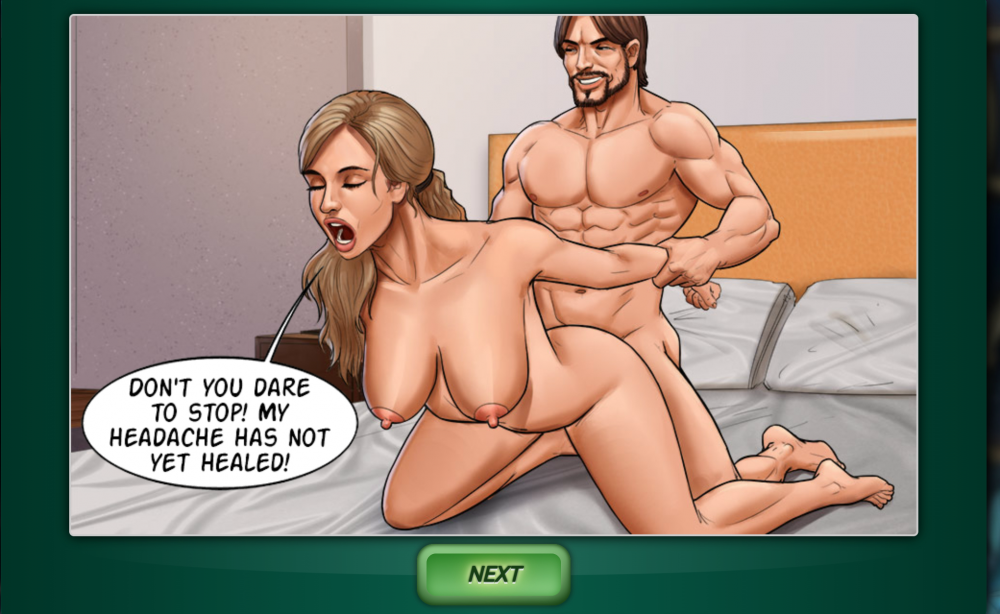 As the Poker Sluts are used in battle, they gain experience. Enough experience, and a girl is ready to lose some clothing and level up. Defeating sexy women in poker combat gets them to spready their legs. The player is rewarded for wins with hot and heavy pornographic illustrations of Jake getting down. First the girl is lying in bed, waiting, and then Jake has her on her knees, holding her arms behind her back.
Gameplay
Caught with another dude's girl, Jake is sure he's in for the beating of a lifetime. But when two leather clad super girls bust in to save the day, they whisk Jake away to a man claiming to be his uncle. Uncle Ben has a proposition, and it's one Jake would do well to agree to. As the story progresses, Jake will be tasked with making as much money as possible by way of illegal poker games.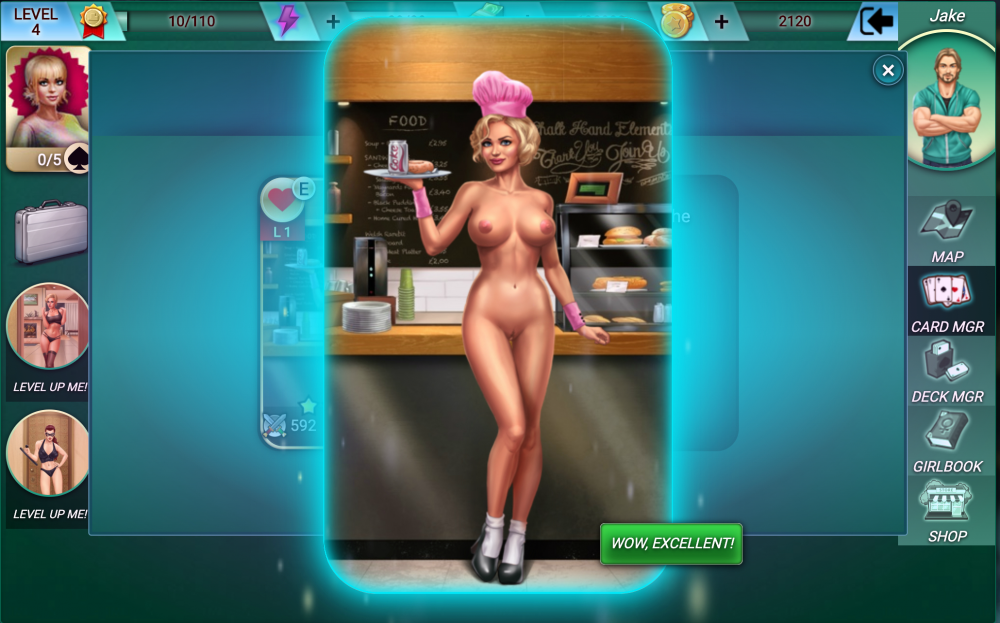 Along the way, he'll have plenty of chances to bed sexy babes. Ben's given Jake a fancy car, a multi-million dollar penthouse, and freedom to do as he pleases. As long as Jake is winning, life will be good. Jake builds up a harem as he faces increasingly difficult opponents in brutal games of cards. The fierce hotties helping Jake do battle with the chicks working for his opponents. As the babes helping Jake grow more comfortable with him, they'll strip their clothes off, allowing their cards to become more powerful. Tight bras with overflowing cups, sexy silk stockings, and thongs so tight nothing's hidden, the art on the cards is sure to turn on any dude, and the gameplay of Poker Sluts unique poker-based combat is sure to please any game fan.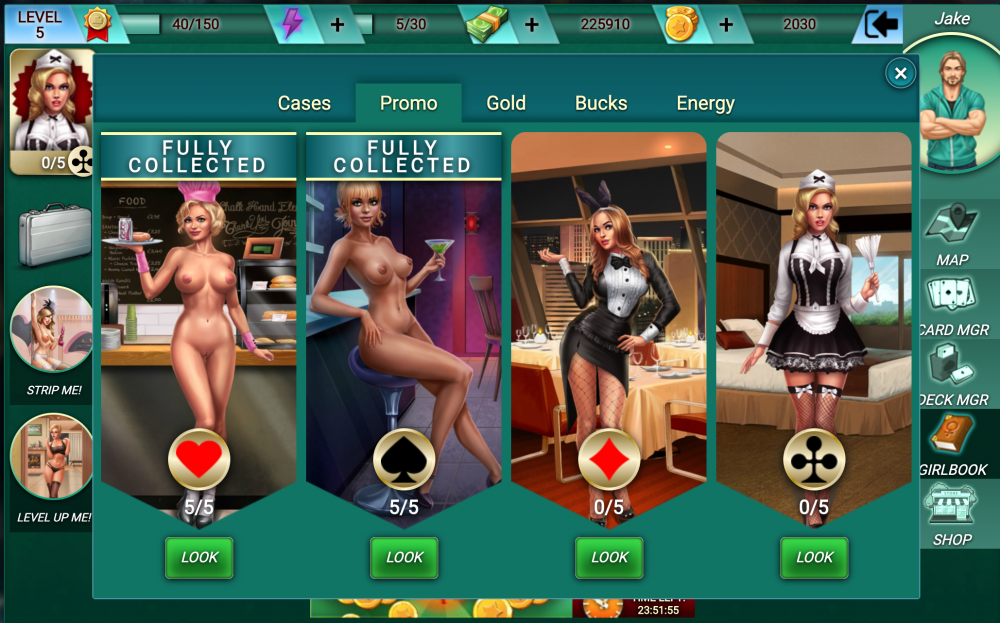 Inventive Poker-Based Combat
Animated Babes
Hardcore Sex Scenes
Control A Harem of Poker Sluts
Upgrades and Special Abilities