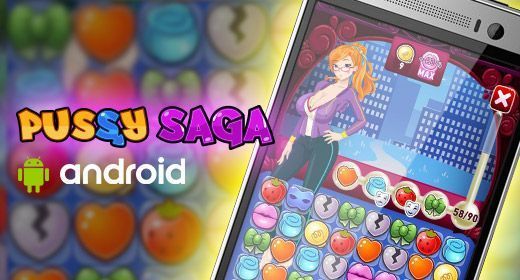 Downloads: 500 000+
Genre: Match-3/Sim/RPG
Languages: English
Platform: Android
Description:
Pussy Saga on Android smartphones allows you to dive into the colorful and thrilling hentai world filled with the horniest and needy babes on the go! Get to know their juicy desires as you move through the levels of the game. Enjoy incredible illustrations and fun dialogs and gameplay. Young tight holes and loose bucket-like pussies, smart chicks and dumb bitches, small raisins and super-sized cans - all this and more awaits you in this incredible game. Pussy Saga is more than just erotica, but the most sophisticated porn game you've ever seen! Try it today!
Intro
Pussy Saga for Android is a classic RPG, featuring interesting narrative and an exciting story, that adds gorgeous hentai girls to the mix. This story starts with a horny love fairy and only gets dirtier from there. Choose from three conversation choices to choose your path through this hot game that's full of sexy girls and nasty gameplay.
Story
Oh no, Sapho the Pleasure Goddess has been kidnapped by a demon! A love fairy finds her way into the human world to seek help, but it's not going to be an easy job. The demon will only release the goddess if he gets something better and dirtier in return, so it's up to the player to use his stamina and skills to literally screw his way to saving the goddess. You may think that banging babes is easy, but the real challenge comes when they ask to be wined and dined before they give up the goods. This means you'll need to take these teases out to dates to convince them to drop their panties. After five successful outings, the honeys will finally give you what you want, and you'll be treated to an incredible, filthy show that ends in an earth-shaking orgasm for your hottie. But of course, a man's job is never done, so it's off to the next babe in an effort to rescue the poor goddess.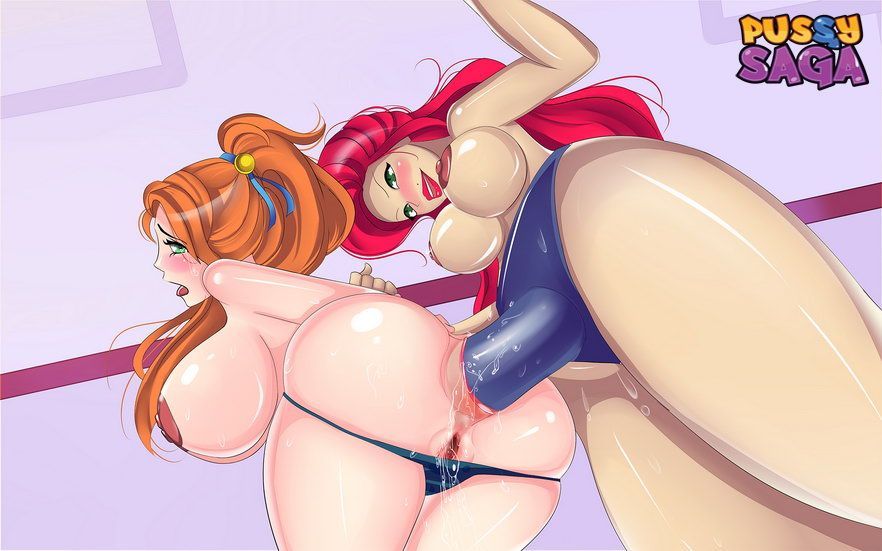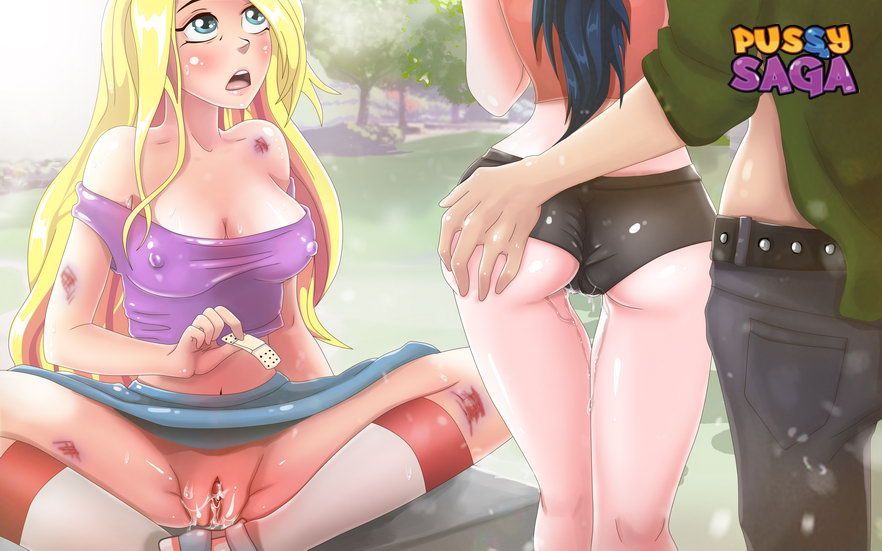 Linda
Marina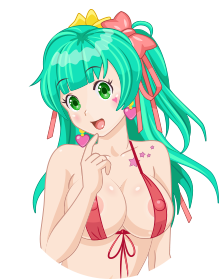 Lola
Emmy
Gameplay
Pussy Saga starts out with you choosing your responses to a conversation. Each reply brings you further into the story, leading you to sexy puzzles featuring the hottest anime chicks. You'll soon have to make a decision about which babe you want to go after, perusing hot pics provided by the love fairy and some X-rated selfies taken by the naughty girls. The puzzles aren't difficult but still fun, and a color-coded system makes it easier to learn the ropes. All you do is match three of more tokens to complete a chain. Blue tokens signify beauty, while the red ones represent flirting. The purple ones stand for romance, and the pink lips are passion. As each girl has her own personality and responds to different things, you'll have to take notes and give the ladies what they want. As you complete chains and give the girls tokens, they'll get more and more turned on.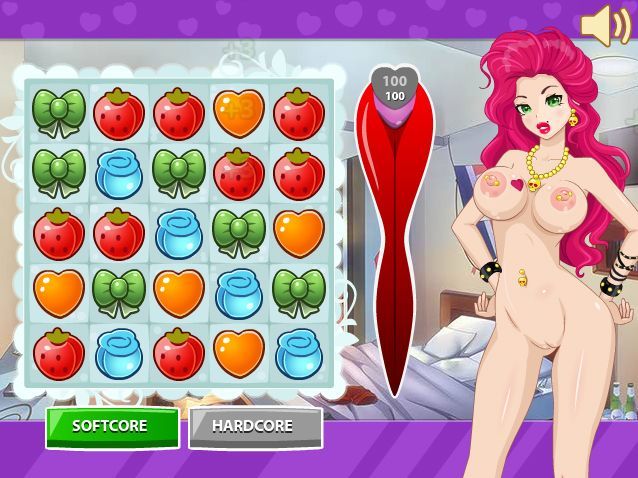 You'll also see light bulb tokens, which will give you more moves, and broken hearts that turn your honey off. When your date is as turned on as she'll get, you've completed your mission. As you continue playing, you'll find presents that can be earned or purchased to give to honeys to turn them on. Once you've wooed a chick five times, she's ready to jump into bed. This particular puzzle has a larger meter, and the board doesn't hide any of her incredible body. Keep matching tokens to keep this girl satisfied, and in the end, you'll see her worn out and tired.
Puzzle-based game
Branching dialogue
Anime babes who strip and perform
Plenty of chicks to choose from
Sexy sound effects