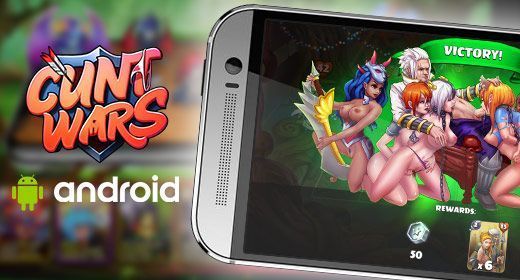 Downloads: 200 000+
Genre: Turn-based/CCG
Languages: English, German, French, Japanese
Platform: Android
Description:
Defeat hideous monsters in turn-based battles to earn the adoration of your harem of voluptuous babes. Feast your eyes and your imagination on the raciest the world of card-collecting RPGs has to offer and fulfill your darkest desires with the horniest hentai maidens in the universe. There's an abundance of raunchy content, completely uncensored and arranged in a way that will appeal to any collector. Everything about CuntWars is fun-oriented, be it the dialogs, the illustrations, or the absolutely enthralling gameplay that delivers instant gratification.
Intro
With no lack of sensual hentai artwork, Cunt Wars is a sexy and heart-pumping game that will keep you at the edge of your seat. In this card-based game, you'll pull together an army of beautiful babes who will fight on your behalf against enemies who are just as alluring. Now available on the Android platform, Cunt Wars can go anywhere you do and is sure to become a quick favorite.
Story
In Cunt Wars, you'll play as Adam, the horny protagonist with battle scars and a big sword. At his command are a legion of sexy babes who like to battle wearing as little clothing as possible. All Adam wants to do is get some, but a horrid group of monsters are standing in his way. The only way for Adam to get his rocks off is send his ladies to war. He has archers who shoot with precision and cat girl soldiers who are as nasty as they are hot. As monsters are defeated and the game progresses, more beautiful babes are unlocked and added to Adam's arsenal. However, the monsters also get stronger, so Adam must keep his eye on the prize and lead his team to victory.
Bunny Girl
Driada
Cat
Darknage
It's free!
In addition to all CuntWars for Android is a Free-to-Play adult game
Gameplay
While a simple game, Cunt Wars has plenty to keep your interest. While you'll certainly be hard pressed to keep your eyes off the sexy ladies, there's also a fun game to partake in. Players start out by building a team of gorgeous anime warriors. Every card features stunning artwork, showcasing each women's best talents—both in skill and looks. Each round, you'll square off against a main monster and his crew. Each side will place its soldiers on a grid battlefield, and then the cards take over, with each team member battling using their unique skills. Should you come out victorious, you'll be rewarded with a host of perks, plus have new cards and warriors to add to your team. Another element to watch out for are special abilities, which the enemy may use against your team. For example, a baddie may use a shield to deflect, minimizing the harm your sexy ladies can do. As the story continues, you'll be treated to banter between Adam and his girls (and the enemy!), and you'll find yourself immersed in the fun plot line. The fully animated battlefield comes to life during each fight, with the babes shaking their bodies and bouncing the goods, while the bad guys growl and claw. Seeing as each stunner is a perfect 10 in the looks department, you're sure to follow the story from beginning to end. Best of all, when Adam finally defeats the enemy commander, he'll finally get what he came for, a chance to get down with one of the beauties, with all the other babes looking on.
Exciting Deck Building
Face-to-Face Battles
Fully Animated Characters
Grid-Based Battlefield
Helpful tutorial
Stunning, nude artwork